We offer a course that will give you full qualifications to become an insured Lomi Lomi Therapist


The essence of what we offer here is 4 levels of training, starting from the entry level one until the advanced weeklong level four workshop 'back to the source' in Hawaii.
The number of workshop participants are limited to small groups. To ensure you get very focused and individual teaching and guidance from Dawn and her team, allowing us to give you one-on-one attention to ensure you receive the maximum instruction and best possible chance to acquire the strokes and techniques.
Previous massage or bodywork experience is not necessary!
We do not know of any other Lomi Lomi massage taught here in Australia that is a true lineage and offered by the lineage holder themselves. It is personally taught, just as it was hundreds of years ago in its purest form by Dawn who is the only person able to teach this modality 'Traditional Old Style Hawaiian Lomi Lomi'. It will be of interest to you if you are sincerely interested in learning this tradition in its most basic and 'unpolluted way', and is for anyone that is looking to connect with source healing energy to serve and nurture those they love, or within their community.
This form of Lomi Lomi is a restorative Hawaiian massage that works gently, yet deeply into the muscles with continuous, flowing strokes. This allows the recipient to relax due to the hypnotic effect, bringing the mind to a place of absolute stillness. Touch, rhythm and ancient wisdom come together, allowing healing to occur. The long, continuous strokes are designed to help the body let go of its old patterns and behaviours, which can cause as many stresses and strains as muscle tension. Through its rhythm and pattern's, it activates meridians, energy points, releases energetic blocks and allows the body's own healing processes to take over.
We pride ourselves on providing a safe environment for everybody to feel like they can be themselves with acceptance, no separation and without judgement. We live by these principles and treat each other within the group with respect, honest, open communication and compassion. This, we feel, is vitally important to create the best way for students to feel relaxed and be able to learn, not only the techniques, but also to learn a deeper connection with themselves and others. Often lasting, deep friendships are made on our workshops.
You will learn new skills and shed old programming and belief systems. This will be facilitated with love and support. Whilst focus and discipline is the mother of learning new techniques, having fun and not taking yourself too seriously are equally important.

You can expect to come away from our workshops feeling centred, calm and connected to your inner being, passion and life purpose. The teachings will allow you to re-enter your daily life more in tune with your feelings, trusting your intuition and self-guidance. This will lead to greater self-empowerment, less reliance on external influences with more mental focus and emotional clarity. You will experience feeling happier from a relaxed body, still mind and having shared a wonderful break with like-minded people.
After successfully completing level one you can, if you wish, create your own business that you have always dreamed of and become a Traditional Old Style Lomi Lomi therapist, or if you are already a body worker you will be able to add Traditional Old Style Hawaiian Lomi Lomi to your list of therapies offered to your clients.
This Lomi Lomi training experience will give you the opportunity to practice openness and be more receptive to relationships and gain new experiences. You will learn to become more positive with your thought patterns, giving you the power to transform your body and mind, better equipped to serve others. With four levels of training to advance to, each level extending the massage and treatment, adding new skills such as trigger point therapy, pregnancy massage, 4 hand doubles massage and stretches with the final level 4 completed in Hawaii over a week duration. 
We hold the majority of our workshops in dedicated retreats all over the beautiful Gold Coast, QLD and Northern Rivers, NSW Australia. All our 'Full Retreat Stay' courses from level one to three include 2 night's accommodation, nutritionally healthy food, cold pressed juices, use of retreat facilities and tuition for 3 full days. Alternatively we have our 'Day Stay' option which includes tuition as well as nutritionally healthy lunch and cold pressed juice each day.
We are an Approved Training Provider with the International Institute for Complementary Therapists (IICT) and are able to pass on insurance and member benefits/discounts to our students upon completion of our Level 1 Lomi Lomi and Hot Stones workshops. All of our workshops are also approved by the Australian National Therapists Association (ANTA) and Massage & Myotherapy Australia for CPE points only.
UPON GRADUATION YOU WILL RECEIVE:
• Knowledge to perform a full Traditional Old Style Hawaiian Lomi Lomi Massage treatment *Starting at 90 minutes for Level 1*
• Full qualification as a Lomi Lomi Massage Therapist, along with a certificate
• Become part of our Massage Ohana Family, which entitles you to future discounts and preferred booking status
• Receive 20% off your first year of membership with IICT and possible savings on insurance with IICT
• A calm and peaceful mind
• A relaxed and healthy body
• A healing that will ripple throughout your life
• Strong bonds with new friends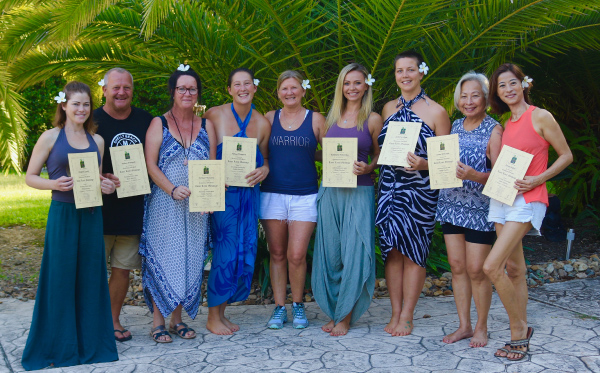 FREQUENTLY ASKED QUESTIONS
DO I NEED ANY PRIOR MASSAGE OR BODY WORK EXPERIENCE?
No previous experience is necessary, in fact we have found that some students find it easier to learn without other massage trainings and learnt modalities, so starting from a completely blank page is fine! In times past, Lomi Lomi was used within the families to ensure that everyone was healthy and strong as possible. Carrying on with this tradition, some students simply learn Lomi Lomi to nourish and share with their loved ones, families and friends without intentions to become a working massage/bodywork therapist.
AS A TRAINED CERT 4 REMEDIAL MASSAGE OR BODY WORKER THERAPIST, WHY WOULD I BE INTERESTED IN THESE COURSES?
We find many Cert 4 Remedial and previously trained massage/body workers complete our courses as they are able to add Lomi Lomi to their list of insured treatments. Trigger point therapy and four handed doubles massage, stretches and pregnancy massage are added in levels 3 to 4 to extend your growing list of offerings. Traditional Old Style Hawaiian Lomi Lomi is very kind to the practitioner giving the treatment. We usually find that after training, Lomi Lomi becomes their preferred choice of healing treatments offered, due to less strain on their bodies through knowing how to distribute weight correctly, pressure within their hands and the energised effect felt by the therapists.
IS THERE ANY AGE LIMIT, GENDER OR PHYSICAL REQUIREMENT?
No, Traditional Old Style Hawaiian Lomi Lomi is suitable for all ages and genders. We have been blessed with all ages and have had a full range, from children all the way up to students in their late 70's learn with us! Fun fact: Auntie Margaret Kalehuamakanoelu'ulu'uonapali Aha'ula Keali'i Machado taught and actively gave Lomi Lomi massages well into her late 80's! As long as you are able to stand and lay unaided, you are capable of joining our workshops. We often have ladies join who are pregnant or people with injuries train with us.
I LIVE TOO FAR AWAY AND NEED TO TRAVEL INTERSTATE OR INTERNATIONALLY, WHERE DO I DRIVE OR FLY TO?
We have lots of Interstate and International students who travel far & wide to join our workshops. For flights, we suggest arriving at Gold Coast airport where we will happily include airport transfers as part of your stay. You will need to advise us of your arrival and departure times when you book. If you decide to fly into Brisbane airport, there are train or bus options with regular schedules however you will need to organise this yourself, we are happy to collect you from a local bus or train station. If you are driving from Interstate, you will take exit 89 on the M1 pacific motorway and follow your GPS/map for a short while to our location.
I HAVE SPECIAL DIETARY REQUIREMENTS, WILL YOU CATER FOR ME?
We try our best to offer a range of foods to suit most common dietary requirements such as vegan, vegetarian, dairy free, gluten free and diabetic. You can specify any dietary requirements when you complete our Student Enrolment Form upon securing your booking. If you have an uncommon dietary requirement, please contact us directly and we will try our best to accommodate you however this may come at an additional cost to you.
ONCE I HAVE PAID MY DEPOSIT, HOW DO I PAY THE REMAINING BALANCE OF MY NOMINATED WORKSHOP?
You will receive notification from us via email on how and when to pay the outstanding balance.
WILL MY PREVIOUS LOMI LOMI TRAININGS WITH OTHERS COUNT TOWARDS MY ATTAINMENT LEVEL IN TRADITIONAL OLD STYLE HAWAIIAN LOMI LOMI?
Traditional Old Style Hawaiian Lomi Lomi Massage is lineage based and is unique in comparison to most training offered by other Lomi Lomi teachers therefore students will need to start at our entry level regardless of their previous Lomi Lomi experience. We do however appreciate all teachings and believe that no training is ever wasted, your experience will simply provide you with a greater understanding of Lomi Lomi as a whole and may allow you to pick up the strokes/techniques quicker than your fellow students.
WILL I RECEIVE A CERTIFICATE?
Usually yes, after demonstrating that you are capable of the basic strokes and technique on the final day of practice. We always recommend that students complete a minimum of 10 massages on loved ones after finalising their training prior to offering treatments to clients, this is to ensure that they have integrated all the knowledge that has been shared.
AFTER SUCCESSFULLY COMPLETING LEVEL 1, AM I ABLE TO BECOME A LOMI LOMI THERAPIST?
Yes, after graduating and receiving your certificate and completing 10 massages on loved ones after your course, you will be able to set up and start giving Traditional Old Style Hawaiian Lomi Lomi Massages to paying clients. We recommend becoming insured and joining the IICT or similar recognised body. See below FAQ's regarding insurance and accreditations.
CAN I PRACTICE ON OR TREAT A PREGNANT WOMAN?
Therapists need to be very careful when massaging pregnant women. We advise against doing so unless you have completed our Level 4 workshop which includes Pregnancy Massage training. If you are not trained you could do serious damage without meaning to or even knowing and also you would not be covered for insurance purposes if something were to go wrong. We do not recommend students practice on or treat pregnant women before completing Level 4. There are many areas (other than the belly) to avoid as Lomi Lomi is a lymphatic drainage massage and certain points can be damaging to the woman and/or foetus if not performed correctly. We understand the desire to help pregnant women to relax and unwind however they are very sensitive and should only be treated by experienced pregnancy massage therapists.
CAN I GET INSURANCE?
As a Traditional Old Style Hawaiian Lomi Lomi Massage practitioner you are eligible to join the International Institute for Complementary Therapists (IICT) on:
www.iict.com.au. Ph: 1300 653 981 The IICT guarantees Traditional Old Style Hawaiian Lomi Lomi Massage is covered and that our graduates* can gain membership and insurance.
Or alternatively after gaining IICT membership you have a variety of insurers to choose from. (Contact us if you need any further assistance).
The International Institute of Complimentary Therapies. Australia's Best Rates for Membership & Discounted Practitioner Insurance. Over 550 Natural Therapy Modalities Welcome. Visit: www.iict.com.au or email: support@iict.com.au for a free information kit.
IS THIS COURSE ACCREDITED?
Traditional Old Style Hawaiian Lomi Lomi is a sacred form of healing massage and bodywork that is not usually recognised by the usual western medical society. Our training is recognised by the International Institute for Complementary Therapist (IICT), we recommend that you gain membership of a massage or allied health association to ensure you can get insurance coverage, if you wish to make massage therapy or body work your chosen work or career.
No previous experience is required to start your learning with us, you just need the desire and good intention to learn and grow.