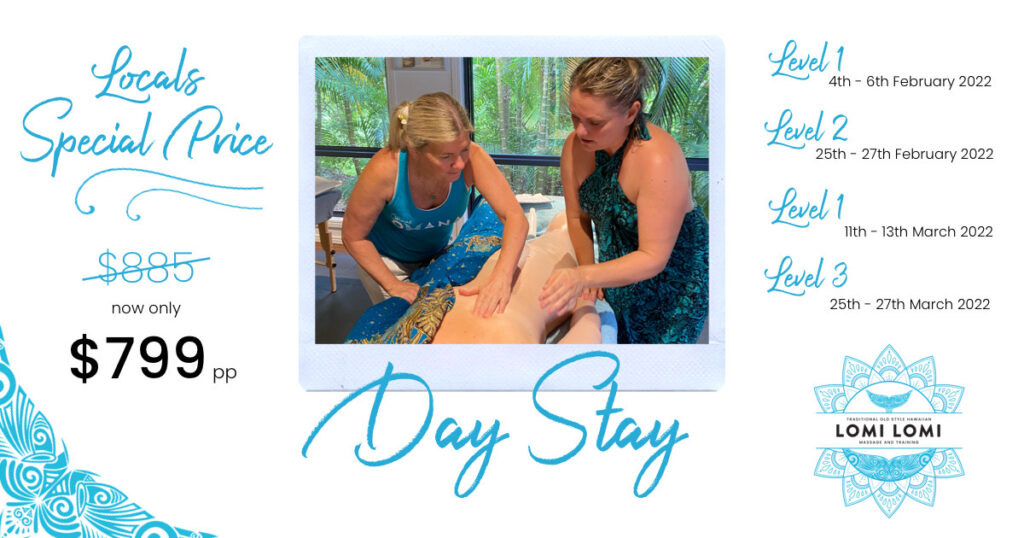 Are you a Gold Coast local or can stay with family/friends in the area?
Now that the QLD borders are open to ALL without any restrictions, it's a great time to secure your booking with confidence!
To make it that little bit easier to start your Lomi Lomi training journey with us, we are offering a reduced price for Day Stay tickets for all our Lomi Lomi workshops being held up until March 2022.
Traditional Old Style Lomi Lomi Massage is a lineage based authentic Hawaiian style massage that has been passed down ritually through lineage form to Dawn Charlton after completing a 4-year one-on-one apprenticeship both in Hawaii and Australia. Dawn teaches this massage personally, just as it was taught hundreds of years ago in its purest form and is the only person worldwide able to teach this modality and style. If you wish to read more, you can do so by clicking here.
This is an investment into yourself, which can provide you with a new career as a massage therapist or if you are already a body worker you will be able to add Traditional Old Style Hawaiian Lomi Lomi to your list of therapies offered to your clients.
All you need to do to start this new journey is book online to secure your space on one of our upcoming workshops being held before March 2022.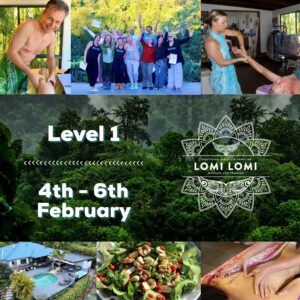 At checkout use code:
LOCAL
At checkout use code:
LOCAL
At checkout use code:
LOCAL
At checkout use code:
LOCAL
Easy as 1, 2, 3!
An amazing opportunity for those who might like to do an in depth training and learn Level 1 to Level 3 consecutively at a great saving of $258!
All students must start via our entry Level 1, even if you have trained in Lomi Lomi elsewhere. Spaces are limited and only open to the first available bookings. Once spaces are sold out the offer is no longer valid so get in quickly so you don't miss out on this opportunity!
Learn Traditional Old Style Hawaiian Lomi Lomi Massage at our Luxury Health Retreat on the Gold Coast.
If you'd like more information on this style of Lomi Lomi, our workshops and what we offer then click here to read more. You can also email us using the contact form on our contact page and we can take your booking manually.
Book your discounted stay today for our IICT approved training workshops so that you  can wake up in the morning and love what you do!
~ Offer valid until Thursday 24th March 2022 and only applies when booking a Day Stay ticket on the select workshops as stated above. All other workshops are not included in this offer. Limited tickets available and offer can no longer be claimed once events are sold out. Rest assured that if any workshop is postponed due to COVID-19 all funds paid will be transferred to a later workshop date, no fees or questions asked.