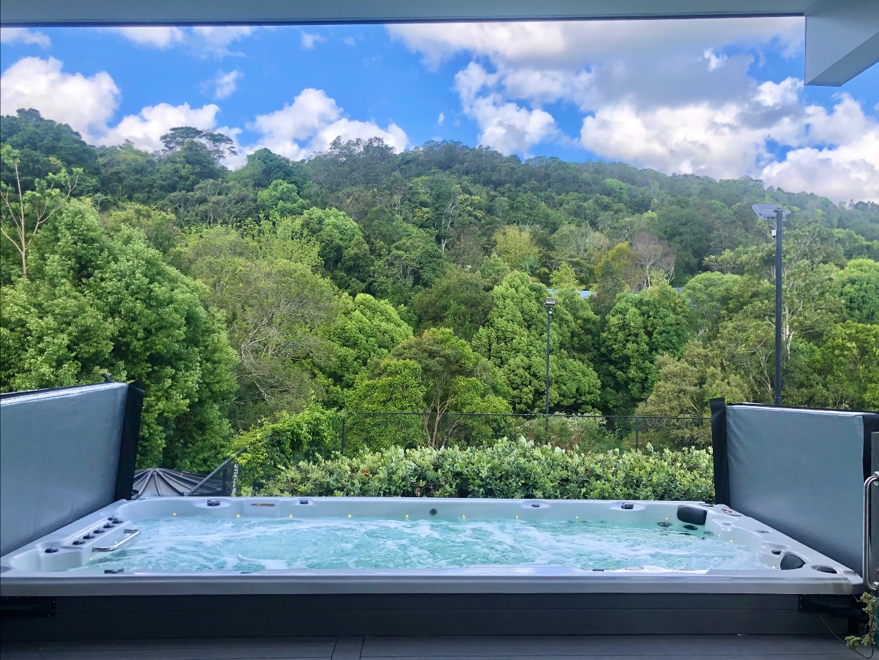 We are open and ready to pamper you with 3 days of giving and receiving massage in our newly improved 5 star retreat on 30th October – 1st November, 2020.
Want to learn a Traditional Hawaiian Authentic Lomi Lomi Massage… with the added extra of our brand new luxurious full spa facilities in the amazingly natural surroundings of Tallebudgera Valley on the Gold Coast?
Imagine, being the first group of students to sample our new 300m2 grand deck complete with natural magnesium 5 metre Canadian Swim Spa and magnesium Swimming Pool, Swedish Tylo Steam Room, outdoor bathrooms as well as outdoor commercial kitchen & dining area. Take the time out for yourself in a totally natural and first class environment learning a new skill that enables you to start that career you have been dreaming of and being able to treat your loved ones and clients. Our new October students will be the first to be spoiled, relaxing at our own stunning dedicated retreat that has 6 bedrooms, 25 metre training room, large screen media room, tennis court and manicured gardens. We offer fully organic freshly made food sourced from our local farmers markets and cold pressed juices made onsite with our own commercial Cold Pressed Juice machine.
We are offering an amazing experience and an opportunity to learn Traditional Old Style Lomi Lomi Massage by lineage holder Dawn Charlton both in our dedicated retreat in Australia and concluding your training in a fantastic location in Hawaii. Why not join and share our unique and exclusive massage "Ohana" family, packed full of likeminded people who love to give and receive.
Course Details
A three-day and two-night immersive stay in our own dedicated and specialised retreat located in serene and lush Tallebudgera Valley on the Gold Coast, Queensland, Australia. You will live in a beautiful natural environment, nourished by locally sourced organic food and freshly made on site cold pressed juices. The number of workshop participants are limited to small groups. To ensure you get very focused and individual teaching and guidance from myself and facilitators, allowing us to give one on one attention to ensure you receive the maximum instruction and best possible chance to acquire the strokes and techniques. After successfully completing the course we can guarantee you will receive certification to become a therapist, a relaxed body, still mind, feel happier and have shared a wonderful break with like-minded people.
The investment is $1195* per person and includes organic freshly prepared meals for 3 days, accommodation for 2 nights, full use of the retreat facilities and tuition (*additional nights can be offered if required, at an additional cost).
Alternatively… we offer our very popular 'Day Stay option': $885
This option is specifically for those who live locally to us or wish to stay with friends and family, making it more accessible and affordable to all ! Just $295 per day, which is $885 for the 3-day course per person. The cost includes 3 x organic freshly prepared lunches with cold pressed juice. Use of retreat facilities come at an additional cost. The workshop will start each day at 9am and ask you to be here for 8:45am. Each day usually concludes at around 5pm. If this resonates with you, you can register your interest.
We have 4 levels of training to advance to (with level 4 taught in HAWAII back to the energy source), each level continues to extend the massage and treatment you can give, adding new skills at each level and incorporating trigger point therapy, pregnancy massage, 4 hand doubles massage and stretches, with the final level 4 completed in Hawaii over a week duration.
Sending love and light.
Mahalo,
Dawn & Team