Dates
Date(s) - 01/12/2019

Location
Tallebudgera Valley
209 Syndicate Road, Tallebudgera, Queensland, 4228, Australia

Workshop Type
Ho'oponopono

1 day Introduction to Traditional Ho'oponopono taught by Julia Kalani Adams & Deborah Hutchings.
SUPERCHARGE YOUR SPIRIT POWER
E Aloha E – In the light and love of the Ancestors
E Aloha E introduces you to the profound spirituality and traditional teachings of the Kanaka Maoli – the First Hawaiians – so you can live these sacred teachings at home, at work, and as healing practitioners.
E Aloha E describes how we are taught to live our lives with Aloha Kekahi i Kekahi, complete & unconditional love for all things in this Universe, with the understanding that the Ancestors are always looking for opportunities to teach and guide us.
What you will learn
You might be thinking about ways you can grow your business and add value to your Client Services? This Workshop is for you…Maybe you've been thinking of doing Ho'oponopono Sessions but not sure how to do it? Then this Workshop is definitely for you…Or, maybe it's the Ummm Factor – heard about it, think it could be good for you, but don't know a lot about it or feel confident to do it – heads up, this Workshop is where you want to be…
…this 1 Day Workshop is filled with Hawaiian Spirituality. We will introduce you to the EXACT Ancestral foundation teachings of Ho'oponopono and Hawaiian Spiritual Teachings that underpins it.
You will learn:
~ The Universal Symbol of the Universe
~ How to Become Pa'a and Why You Need To
~ The ABC's of Hawaiian Spirituality
~ Healing with Traditional Ho'oponopono
~ 2 Chants for your everyday Spiritual or Healing Practice
Ho'oponopono goes with Lomi Lomi/Hawaiian Bodywork, Herbalism, Naturopathy, Energetic Healing and many other healing modalities. Develop your business whilst you develop yourself or use at home to help family members find their way.
RESERVE NOW: we anticipate this will be popular. Early booking and payment recommended.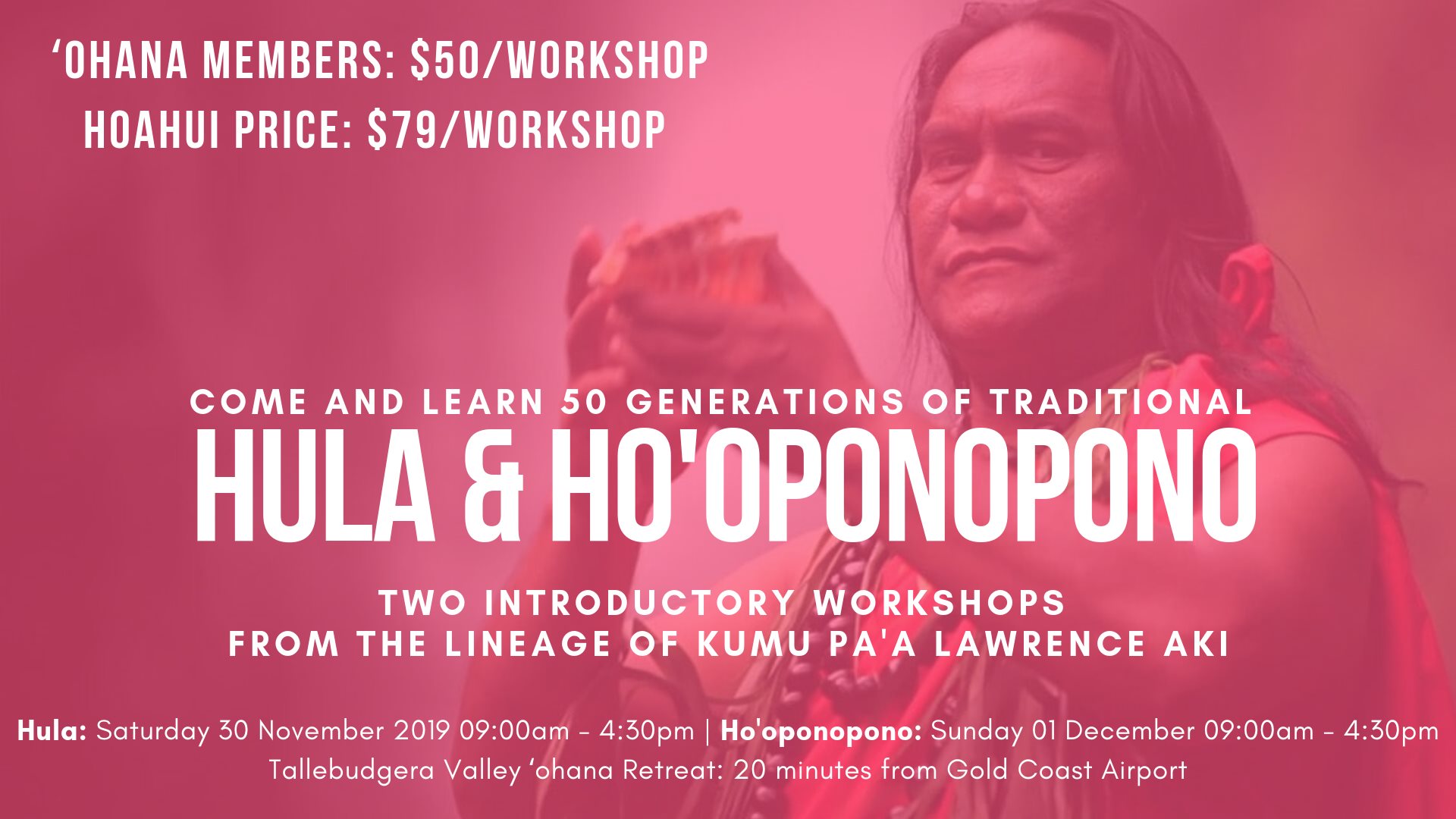 Authentication:
Kumu Pa'a Lawrence Kalainia Kamani Aki is a Cultural Practitioner, Historian and 50th Generation Teacher esteemed by community experts from across Hawaii as having preserved the connections to his rich Ancestral past and deep association with place and subject matter. Kumu wants you to learn how to live the Sacred Teachings of Aloha from his Lineage. He has given his permission for his Haumana, Julia Nalani Adams and Hoahui Deborah Halani Hutchings, to share these Lineage Teachings with you. (www.manaomolokai.com and Mana O Molokai)
If you really want to live with the presence of the Ancestors and turn what you love into what you do, you won't want to miss these Gold Coast Workshops…
PRICE: Ohana Price: $50/workshop – you're a member of the Traditional Old Style Hawaiian Lomi Lomi ʻohana or you've done classes with Kumu Lawrence. If not, the General Tix Price applies: $79/workshop.
PAY: Direct Deposit to Kumu Dawn Charlton Traditional Old Style Hawaiian Lomi Lomi Massage www.learnlomilomi.com.au OR Pay Online @ www.true-nature.com.au/truestore or call Julia Nalani to EFTPOS via phone.
Keep checking back and our socials ….2020 will bring lots of new opportunities to learn lots of new skills, complimentary activities and events.
Click here to find out more!
Lunch - This is at an additional cost or BYO
Pens, paper for note taking
Optional spa treatments/healing sessions;
Any other services not mentioned in the itinerary.
All prices are per person in AUD;
We require your full payment before the start of the course.
Cost for staying 30th November is based on shared accommodation. Please be aware that there are a limited number of rooms with shared bathrooms. (Please enquire if you have specific accommodation requirements)
Please click play to watch the video.