Dates
Date(s) - 20/06/2020

Location
Tallebudgera Valley
209 Syndicate Road, Tallebudgera, Queensland, 4228, Australia

Workshop Type
Traditional Hula

PLEASE NOTE THAT DUE TO COVID-19 RESTRICTIONS THIS WORKSHOP MAY NOT PROCEED. PLEASE CONTACT DAWN VIA EMAIL (dawn@learnlomilomi.com.au) IF YOU ARE INTERESTED IN THIS WORKSHOP.
The Path to PA'A – 1 day Introduction to Hawaiian Healing taught by Julia Kalani Adams & Deborah Hutchings.
1 DAY RETREAT WORKSHOP. EARLY BOOKING RECOMMENDED.
Retreat from the day to day so you have time to listen to your heart. If you feel you are being pulled out of your life, give yourself the time and space to re-learn about yourself moment to moment. The Hawaiian Spiritual Teachings give you a reference point that has helped people live a happy & fulfilling life for 50+ Generations, and they will help you too…
…When you are PA'A you know your place in the Universe, you know where you fit in and what fits in with you; you understand your meaning and purpose and how to get there; you understand how everything moves within you and you within it and how this movement is happening; you understand Oneness beyond the conceptual by direct experience; you feel the Ancestors, their mana – spirit energy, hear them, see them connecting with you; you are free of obstacles, barriers, baggage that create inertia, hazards and conflicts. You are free, joyous and happy. You feel an aliveliveness. You feel whole…
The Path to PA'A is our Gateway Workshop learning about Hawaiian Spirituality and Hawaiian Healing. It explains our Ancestral Teachings and shows you how to apply them to heal your life, create more happiness, fulfilment and to live in a way that's simple, yet authentically Spiritually connected.
PA'A is a state of being. When you achieve this state or way of living, you are in the correct alignment Spiritually, Mentally, Physically – in that order. As you move toward becoming PA'A, you heal your life. When you achieve PA'A you attain MASTERY. Our Ancestors have laid out the teachings for us to follow so that we can live as part of the whole Universe, in Oneness and Wholeness without Separation. In this workshop, you begin the teachings and be able to look at each life situation and ask yourself "which teachng helps me here…". It's healing for life and our ʻāina – land…
What you will learn
⁜ Participate in Protocol/Ceremony for Cleansing, Connection & Honouring the Ancestors
⁜ Learn the Universal Symbol for Life: What it Means for You
⁜ PA'A: what it means and how to get there
⁜ PAPA: the layers and levels of Hawaiian Spiritual Foundations
⁜ The Higher Being, 'aumakua/Guardians, Po'e Kahiko/Ancestors:
⁜ Connection and Relationship: how the Universe is divided
⁜ Pule/Prayer & Oli/Chant: you will learn two Hawaiian Chants
⁜ Mo'olelo/Teaching Stories: listen, learn, discuss and apply
⁜ The First Layer of Teachings: For Living & Healing
AS WELL:
⁜ join the Closed Facebook Group with resources & information we won't be including in the workshop
⁜ an optional follow up online class to consolidate your learning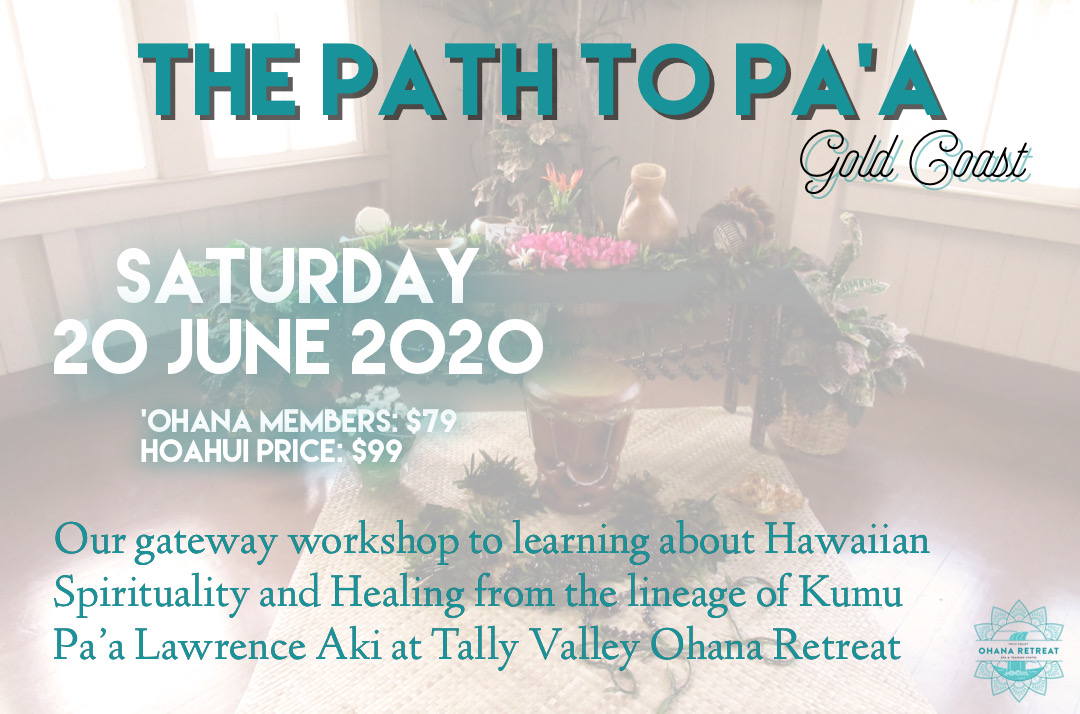 Authentication:
Kumu Pa'a Lawrence Kalainia Kamani Aki is a Cultural Practitioner, Historian and 50th Generation Teacher esteemed by community experts from across Hawaii as having preserved the connections to his rich Ancestral past and deep association with place and subject matter. Kumu wants you to learn how to live the Sacred Teachings of Aloha from his Lineage. He has given his permission for his Haumana, Julia Nalani Adams and Hoahui Deborah Halani Hutchings, to share these Lineage Teachings with you. (www.manaomolokai.com and Mana O Molokai)
If you really want to live with the presence of the Ancestors and turn what you love into what you do, you won't want to miss these Gold Coast Workshops…
PRICE: 'Ohana Price: $79/workshop – you're a member of the Traditional Old Style Hawaiian Lomi Lomi ʻohana or you've done classes with Kumu Lawrence. If not, the Hoahui price (General price) applies: $99/workshop.
PAY: Direct Deposit (bank transfer) to Kumu Dawn Charlton Traditional Old Style Hawaiian Lomi Lomi Massage by emailing dawn@learnlomilomi.com.au or call Julia Nalani on 0417411465 to EFTPOS via phone.
RESERVE NOW: we anticipate this will be popular. Early booking and payment recommended.
Keep checking back and be sure to follow our socials as each new year will bring lots of opportunities to learn new skills, complimentary activities and events.
Click here to find out more!
Lunch - This is at an additional cost or BYO;
Pens, paper for note taking;
Optional spa treatments/healing sessions;
Any other services not mentioned in the itinerary.
All prices are per person in AUD;
We require your full payment before the start of the course;
Cost for staying is based on shared accommodation. Please be aware that there are a limited number of rooms with shared bathrooms. (Please enquire if you have specific accommodation requirements).
Please click play to watch the video.