Dates
Date(s) - 02/03/2019 - 03/03/2019

Location
Tallebudgera Valley
209 Syndicate Road, Tallebudgera, Queensland, 4228, Australia

Workshop Type
Level 2 Refresher

Level 2 Lomi Lomi Refresher and Training
2 day Traditional Old Style Lomi Lomi Massage course by lineage holder Dawn Charlton. Re-immerse yourself into the teachings of Hawaiian massage. Re-connect with students from your previous trainings/experiences or with new like minded new Ohana members and refine/develop further your Lomi Lomi techniques,… accomodation, food and full tuition included.
What you will learn
Level 2 refresher training is a revisit to your original training. Like in your original level 2 training we revisit level 1 introducing more depth of knowledge and reshowing you the strokes. Once perfected it allows the practitioner to go much deeper into relieving tension in the major parts of the body that hold the stresses of modern living and trauma from physical exertion.
The techniques used in level 2 were perfected over the centuries by Hawaiian Healers to reintegrate the parts of the body of Hawaiian warriors that had been damaged in battle.
Within the longer flowing strokes more specific techniques are introduced that are highly effective at releasing tensed up muscles and moving  stagnant energies though and out of the body.
More emphasis is added to becoming centred in the rhythm of Traditional Old Style Lomi Lomi, opening up the heart energy, connecting you to your higher self and the abundance of kindness and healing. This energy will flow into your clients and complete the circle of life.
This treatment when performed continuously will last approximately 90 minutes to 2 hours. There are no formal notes given for this level as the emphasis is on feeling through each of the moves. However you are welcome to bring a notebook if written notes will aid in your style of learning.
Morning meditations are usual to help calm the mind and relax the body, move through any blocked emotions and help facilitate the learning process.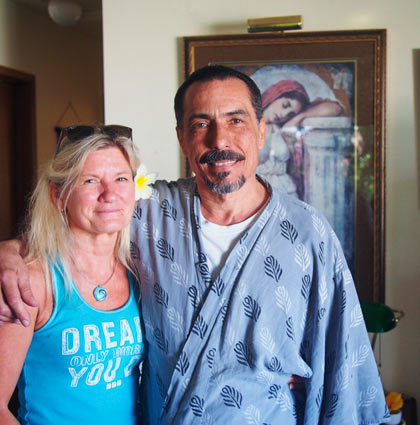 To qualify to attend this course, you must have attended and to completed at least level 1 and 2, in the past 2 years.
(Level 3 Students and Level 4 Students are welcome to attend to reconnect and perfect their skills).
We look back on level one and two.
The teaching style emphasises compassion, kindness and a relaxed environment with laughter, fun and support to make this learning an easy joyful experience.
Refreshing your skills and perfecting your treatment will only benefit you and all that you treat.
No new certificate will be presented..
Click here to find out more!
Nutritional Meals and Cold Pressed Juices
Use of the retreat facilities- pool, spa, tennis court etc
Massage oils, massage tables & equipment
2 Towels for massage course
Meals outside of the retreat
Pens, paper for note taking
Optional spa treatments/healing sessions;
Any other services not mentioned in the itinerary.
All prices are per person in AUD;
Non-refundable deposit of AUD $300 is required at the time of booking to secure your place outside of 3 months before departure;
We require your second and final instalment $395 AUD 2 weeks before the start of the course.
Total cost for Training is AUD $695 per person based on shared accommodation. Please be aware that there are a limited number of rooms with shared bathrooms. (Please enquire if you have specific accommodation requirements)
Please click play to watch the video.